Corinda's 13 Steps to Mentalism DVD - My Review
Buy it:
http://www.penguinmagic.com/specialorde ... p?ID=11799
Demo:
http://www.youtube.com/watch?v=aUGeCgauRZg
(sadly this is L&L's youtube channel with a HORRIBLE quality demo)
Price: About $81 after discount
Purchase the book here for $22.50 after discount :
http://www.penguinmagic.com/product.php?ID=1093
I've watched this set 4 times now, performed probably 15 things from it, and figured it was worthy of a complete review.
This is from L&L so you have the usual overreactions, cute girls with cleavage and lots of skin plus the cheesey music between segments. The video and sound are of course exceptional, as with all products they create. Overall, the videos run over 12 hours in length and are filmed in a small studio complete with the large eyeballs from the book in the backdrop. I've seen some discussion about Richard being a bit out of his element in these, which is somewhat true. He does "uh" and "um" a lot more than usual, pace a bit much and doesn't seem 100% comfortable, but he does address this in a reply on the Cafe. I don't feel this distracts much from the videos, and really enjoyed watching his take on various effects.
DISC 1 (2.5 hours)
Introduction to Corinda's 13 Steps to Mentalism - 2 mins
Step One - Swami Gimmick
Introduction / Discussion of the Book (9 mins)
Richard doesn't agree with everything in the book, has his own ideas on approaches and modernization to a variety of tricks. He has tried to update some of the effects with some fresh ideas. They have also gone through the book, and picked out things that they believe best represent the overall demonstration of each step.
Swami Gimmick - Discussion (8 mins)
Richard shows 8 varieties of writers, from grease pencils to regular lead ones. Both under nail and thumbtip gimmicks, discussing the benefits and disadvantages of each. An example can be seen here:
http://www.penguinmagic.com/product.php?ID=S2696
An Opening Effect (10 mins)
Richard walks out with a folded piece of paper in his hand, asks a woman from the audience to name a random number (which happens to be her birthday), and immediately hands out the paper for reading to the rest of the audience. Of course, it contains her birthday.
During the explanation section, Richard shows the ups and downs of different papers/cards you can use. He also introduces a method of writing with the thumb freely without actually holding the paper. Plus how to use a folded card inside of a sealed envelope for the reveal.
A Stage Effect (14 mins)
"The Stage Trick" from the book. Three people name off pets, family names, dollar amount of coins in their pocket, which appear on the back of cards that had predictions from the beginning of the effect. Richard shows the value of body movement, timing and other useful tips for writing.
Dartboard Prediction (15 mins)
After a prediction is written on folded paper, an audience member tosses darts at a board. Once the score totals are added, they match the prediction. Richard has some great tips on casual handling of paper, having the spectator initialize both sides, explaining scoring totals, etc.
A First Class Newspaper Effect (8 mins)
Spectator picks a random sheet from the newspaper, rips it into halves until only a small piece is left. They choose a word from that remaining chunk, which is on your prediction from the start. The presentation is obviously the key component of this trick. Richard touches on how to handle complex or long words, plus other handwriting tips.
Matches or Cigarettes (19 mins for all three)
A Close-Up Quickie
Living and Dead
Under the table writing is performed and explained. Again, Richard has some great tips on how to present the checkmark or number in a different manner to make it bigger than life.
Step Two - Pencil, Lip, Sound and Muscle Reading
Introduction (2 mins)
The Spectator as the Telepathist (11 mins)
A combination of sound, pencil reading and swami to project a 3 digit number onto the spectator. What they write on the chalkboard appears on a prediction card from the beginning. TONS of great ideas and tips like body positioning, outs in case you get a number wrong, ways to write without being detected, etc.
Just Chance (Impromptu) (11 mins)
This is called "Touch Reading" in the book.
Three empty small coin envelopes are displayed, and a $20 bill is stuff into one. The other two have blank pieces of paper. After the spectator seals all three up, they choose any of the three they want. And of course, the $20 is contained within the leftover envelope Richard has.
This is NOT 100% impromptu unless you constantly carry around "the gimmick" plus three unsealed envelopes plus the extra papers. But it's a cute trick.
Ghost Deck (12 mins)
Called "Psychic Sorting" in the book, Ghost Deck being a marketed trick pack from long ago.
After spectator shuffles the cards, Richard identifies black vs red, and hearts vs diamonds by feeling the cards under the table. I wasn't that impressed with this effect performed live, especially since it seemed to drag on for too long.
Sujan Location (16 mins)
Variety of muscle reading tricks. Spectator picks a color (twice) which Richard identifies while holding their hand. The spectator then wanders out into the audience, handing an envelope to someone else, which Richard walks right to, even though he was turned the opposite way during this process. Lastly, spectator chooses a random color from an envelope while Richard's back is turned again, which he immediately picks out of the stack of other envelopes upon turning around.
This is ultimately cool, and will take a LONG TIME to master. Possibly the most difficult item in the set, but obviously the biggest payoff to master since you're iterally reading the spectator's mind.
Muscle Reading - Discussion (4 mins)
Other important details to consider if you're seriously persuing muscle reading.
DISC 2 (1 hour 38 mins)

Step Three - Mnemonics and Mental Systems
Introduction (2 mins)
The Amazing Memory Test (31 mins)
A very long demonstration of memory, as the audience names off 20 items and Richard finally names them off in order they were written. This presentation took too long for me for a memory dump.
A Day For Any Date (9 mins)
Several audience members name off their birthday, and Richard provides the day of the week it falls on. Looks like a mathematical calculation he's running inside his head. Even the audience looks less than impressed (IMHO). I didn't like this as much as the previous DVD.
Extraction of Cube Roots (9 mins)
Another effect to make you appear to be a genius. Richard picked the easiest one (cubed root), where a spectator multiples a number by itself three times. Then hands him the large number, which of course he instantly knows the cubed root for.
Keep in mind the book covers:
- Squaring
- Extraction of square roots
- Cubing
- Extraction of cube roots
Magic Square (11 mins)
Everybody's favorite, and covered in most beginner texts! Spectator names off a random number, which Richard draws into a 4x4 square of numbers, then reveals all combinations of which add up to the spectator's number.
Knight's Tour (16 mins)
The groaner of the entire DVD. A large chessboard is setup, and spectator attaches stickers one by one on numbers Richard names. These match places that a chess knight could move to given his weird L shaped restrictions. I thought it was never going to end.
Simple Card Systems (13 mins)
A look at cyclical card systems including Richard's own, and Si Stebbins stack. Spectator pulls 3 cards out at random, and he knows which they are. Another spec reverses a card in the deck while under the table, and again he know what it is.
Here's Richard's card system:
http://www.penguinmagic.com/product.php?ID=S5118
and although he doesn't cover full deck memorizations, here's a great one from Tamariz:
http://www.penguinmagic.com/product.php?ID=913
DISC 3 (2 hours, 11 mins

Step Four - Predictions
Introduction (2 mins)
How to spice up general predictions, and mix them into more aspects of your act so it's well rounded. This is also where "Prediction Chest" tricks fall into, as demonstrated here:
http://www.youtube.com/watch?v=p8AP8ZwU_gg
or "Master Prediction System" as here: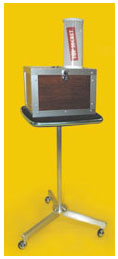 and a variety of others, all of which were expensive back when 13 Steps was written, and are still outrageously expensive today.
What is a Prediction? - Discussion
Predictions, Billet Knives, Pencils, and Indexes - Discussion
Richard shows various billet toys, including plunger devices inside pencils, billet knives, pocket indexing systems etc.
Sample billet knife here:
http://www.penguinmagic.com/product.php?ID=S12069
A Million to One (7 mins)
Spectator stabs a pin into a random city on a large USA map. A prediction handed out into the audience before the trick began is opened, and the city matches the randomly stabbed one. An ingenious method behind this, I loved it (sans the huge setup of course).
The $75,000 Test (14 mins)
Spectators name off 5 random numbers, all of which are filled in on Richard's lottery ticket that's been sealed inside his wallet the entire time. Obviously updated from "Derby horse race ticket" as described inside the book. Fun method, easy to master effect that hits hard.
Astronomical (20 mins)
Three spectators write random 6 digit numbers after a prediction has been handed out into the audience. Once added up, the numbers match the sealed prediction (or dollar bill serial number in this case). Again, a super easy method with a great stunner ending.
The Third Choice (10 mins)
A set of 5 ESP cards are mixed up, sealed into envelopes and tossed out by the spectator until she's holding just one. The envelope is opened up, and her final choice is on the prediction chalkboard from the beginning. Cool trick, however requires more little coin envelopes and special ESP cards that are probably difficult to find. Richard does give an alternative way of making your cards.
The Prophesy (10 mins)
A gypsy letter is shown, and handed out into the audience. Another spectator picks a card at random, which turns out to be the one inside the letter. Fun effect, however the paper cannot be handed out for examination.
Hanging Prediction (9 mins)
An envelope hanging in the audience the entire performance is opened to reveal an unusual name given during the middle of the act. Requires an expensive prop, however an "impromptu" one is given inside the book. Definitely provides a kicker ending to a series of tricks, highly recommended if you can afford the item.
Also, keep in mind that there's a TON more prediction effects inside the book as well to choose from.
Step Five - Blindfold and X-Ray Eyes
Introduction
Sightless Vision Act (23 mins)
A blindfold is created out of newspaper and black cloth. Richard is able to identify objects on a tray even though he cannot see. Cool effect you've probably seen a hundred times in various forms throughout the years.
Impromptu Test (performance only) (9 mins)
Richard names an audience member's adopted son's name without any prior information. Method not listed in the book as well, however he does cover similar methods in his "Question and Answer act" from Disc 6.
Mental Masterpiece (Fogel's Newspaper Prediction) (12 mins)
Spectator highlights a random word out of a newspaper while Richard is blindfolded using his stainless steel blindfold. Richard then unblindfolds himself and writes out the word onto a chalkboard. Has a "sealed prediction in an envelope" component as well, but that's never shown, just referred to after opening. Another fun effect, however can obviously be performed sans the metal blindfold by just using a cloth one. Has an odd hurried nature about it at the end as you cram the sealed prediction into your pocket, but other than that, impressive and fun for the audience.
Here's Richard's blindfold:
http://www.penguinmagic.com/product.php?ID=S2749