I have several volumes of Allan Ackerman's Advanced Card Control series. I found them extremely helpful: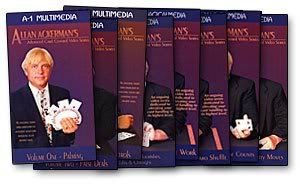 Here's the contents for Volume Five: Shuffle Work.
Sleights and Moves:
G.W. Hunter False Shuffle
Erdnase False Shuffle
Strip-Out False Shuffle
Up the Ladder
Pull-Through False Shuffle
Pull-Through With a Cut
The Zarrow Shuffle
The Shank Shuffle
Slip Shod
Vernon's Two Shuffle Concept
The Sideways Shank Shuffle
Controlling The Top Stock
Controlling the Bottom Stock
Ireland's Red/Black Shuffle
Down's Red/Black Shuffle
Double Undercut to Top
Double Undercut to Bottom
Top Block Transfer
Bottom Block Transfer
Tabled Fake Cut
Stover Fake Cut
Ose Fake Cut
Triple Fake Cut
Fake Double Swing cut
Fake Triple Swing Cut
Tabled Slip Cut
Off-The-Bottom Strip Fake Cut
Klause Overhand False Shuffle
Effects:
D'Amico Revelation
Freeman/Kosy Ace Production
Double Ace Production
MGM Revelation
Riffle Shuffle Stack
Color-Changing Poker Deal
Cutting to Aces and Kings
Vernon's Triumph
Surely everything you need, and more!
Sean