Hey guys, today I was up at 4AM and I was really bored, so I decided to mess around with an old deck of cards. Since they were old, I didn't mind messing them up, so I started folding them and just seeing what I could do with them. It was actually very fun and cool, but it made my hand hurt. Sp just recently, I started folding up some cards again, and this is what I came up with:
It's like a crown:
or a bracelet:
Or, with two, a different bracelet: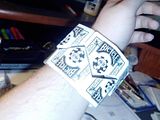 And a different bracelet:
But it could also be a Christmas ornament: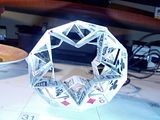 What do you guys think? Its just held together with tape right now. But I think it'd be better if it was held together with something else. Any ideas?
Also, here's
some more pic's
.